Brisbane SEO
Brisbane SEO is a search engine optimisation company located in the state capital of sunny Queensland. We use advanced SEO techniques to help businesses get the most out of their online presence, starting with better rankings in search engines.
Clients and partners
We (Dejan SEO) work with organisations from small local businesses to large corporations and everyone in between. Brisbane SEO provides a service that is highly customised to your specific needs, goals and objectives.
Some of our SEO clients include:
Contact Us
Call us on 3188 9260
320 Adelaide Street
Brisbane
QLD 4000
Australia

"I have been Dejan's client for over five years, and there is no one else who I would trust with my Internet strategy and SEO. His support, advice, and recommendations have ensured my website is one of the first sites people see when they search for information on 1770 (a beautiful township on the coast of Queensland, Australia). I highly recommend Dejan and his team to anyone who wants a successful online presence. He's a miracle worker – definitely an 11/10!"
Michael Ferinac, 1770 Getaway
What is Search Engine Optimisation?
Search engine optimisation (SEO) is a specialised online service focusing on enhancement of website properties in order to gain better placement in the search engine results, you can get more details viewing seo consultants profile page.
Step 1: Research
When we start working together the first step is to learn about your business by getting familiar with products and services you offer. We employ a unique set of intelligent targeting tactics to ensure that you will receive increase in qualified traffic in the shortest possible time.
Step 2: Optimise
Optimisation of your website is performed quickly and without delays. We focus on the key optimisation areas on your website first and look at fine detail in the next stage. We can perform all the changes ourselves or guide your webmaster through the optimisation process.
Step 3: Maintain
Search engines judge your by your links. Today, even the best optimised websites cannot rank well without a healthy backlink profile. Every month, our team will ensure that you continuously gain relevant links maintain your position in the rankings and stay competitive.
How does it work?
An SEO consultant conducts a search phrase research followed by website adjustments and off-site optimisation. Optimised website gradually appears in the search engine result pages, growing in traffic and search result page position.
What are the benefits of SEO?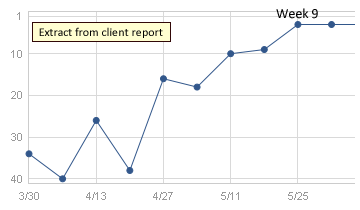 Some benefits of website optimisation are:
Increase in website traffic
Increase in sales / inquiries
Aids company reputation
Reduces costly advertising
SEO is widely recognised as the most effective and cost effective online marketing strategy and is one of the only marketing techniques that can consistently deliver a positive return on investment.
Services
We offer white hat SEO services to businesses in and around Brisbane. Our services include:
Website Optimisation
Consultation
More about SEO
Search engine optimization (SEO) is the process of improving the volume or quality of traffic to a web site or a web page (such as a blog) from search engines via "natural" or un-paid ("organic" or "algorithmic") search results as opposed to other forms of search engine marketing (SEM) which may deal with paid inclusion. The theory is that the earlier (or higher) a site appears in the search results list, the more visitors it will receive from the search engine. SEO may target different kinds of search, including image search, local search, video search and industry-specific vertical search engines. This gives a web site web presence.